Facilities
The farm facilities are comprised of professional offices in a refurbished milking barn, two indoor riding arenas, two outdoor riding arenas, a viewing room, a classroom, open fields and walking trails. All spaces are accessible on the ground floor or by ramps and have Wi-Fi and web conferencing capabilities. Tents may be erected in most any field and there is ample parking in the sand arena or in fields after hay season. There are many options for area catering, with a few listed below. Please, email us for our corporate meeting and retreat packages and prices.
There are also opportunities to utilize Carlisle Academy's Retreat Center for wellness programs and team-building activities with the Academy's horses and trained equine staff.
Indoor Arena
75' wide x 150' long (11,250 sq. ft.) with 16' high ceilings
The Indoor Arena is our largest farm structure. It is a thoughtfully designed and engineered, traditional wooden equestrian facility built in 2008 that is discreetly nestled into the farm landscape overlooking hay meadows and a meandering brook. The unique design includes white-washed ceilings and walls to reflect ample, natural light, and a bank of large overhead glass doors along the north wall that may be opened to flood nature into the space. Additional amenities include generous overhead lighting, a sound system, large screen TV with web-conferencing, a PA, WIFI, and a unisex, accessible bathroom. The facility may easily seat groups as large as 250 people for dining with room for a dance floor, band, and food service. Gable end doors are large enough for motor vehicles.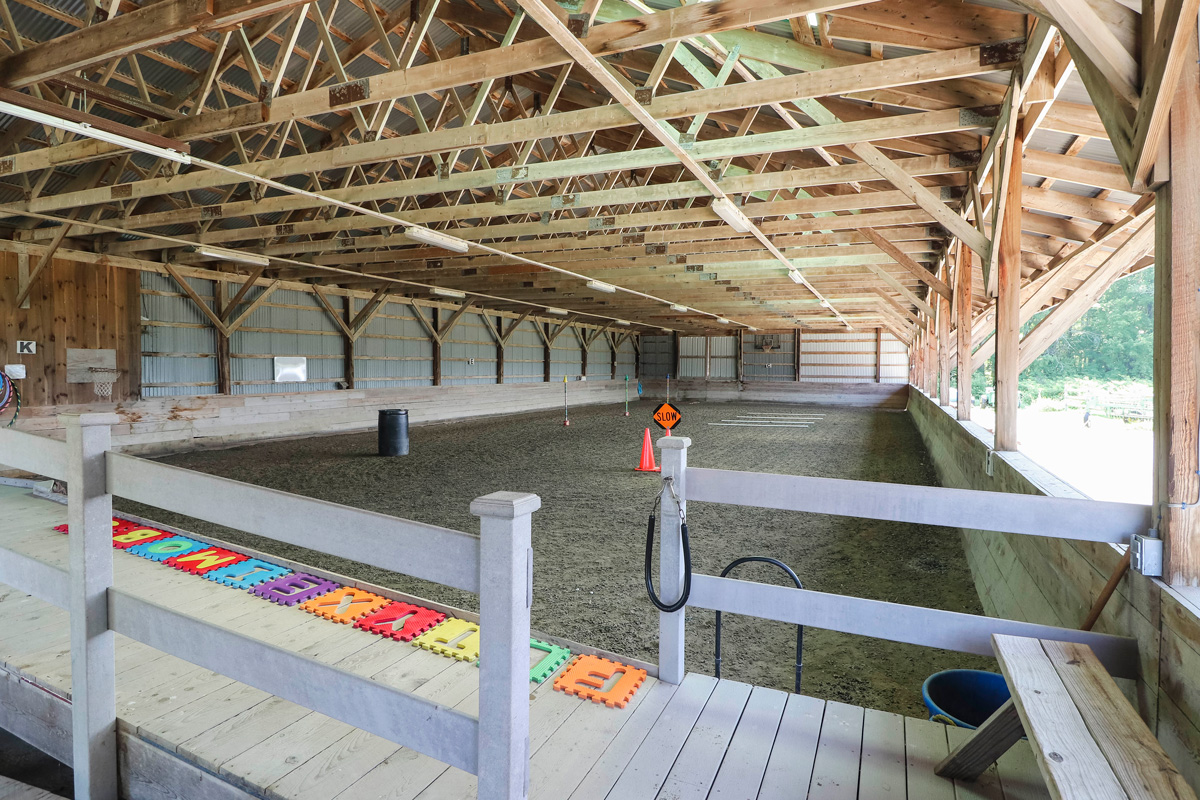 Covered Arena
48' wide x 120' long (5,760 sq. ft.) with 12' ceilings
The Covered Arena was originally constructed in 1974 as a stanchion barn for the milk cows of the former diary on the property. It was renovated to be used for equine assisted activities, and special events in 2004. It is a three-sided, metal sheathed farm structure oriented south east. It is a wonderful, rustic space with just the right amount of protection from the elements for slightly smaller groups of up to 150 people, or as a covered, multi-function companion space for events occurring in the larger indoor arena. The covered arena is connected to the adjacent indoor arena by the viewing room and porch area making these two large structures a unique, and remarkably generous facility for numerous types of engagements.
Classroom
16' wide x 30' long (480 sq. ft.) with 8' ceilings
The Classroom is the former milking parlor for the dairy farm that was renovated in 2020 to become a 4 season, multi-purpose learning space. It has heating and cooling, a television for presentations, WIFI connectivity and soft rubber floors that make it just as appropriate for stretching and yoga as for intimate executive meetings. The room is centrally located within the farm complex with an 1850's timber frame barn at one end, and a newer, cement barn of box stalls on the other. We hope the 5 horses housed just outside the classroom aren't too much of a distraction! Ample parking and a dedicated entrance help make this space a quiet area for preparing for and reviewing the activities taking place elsewhere on the farm.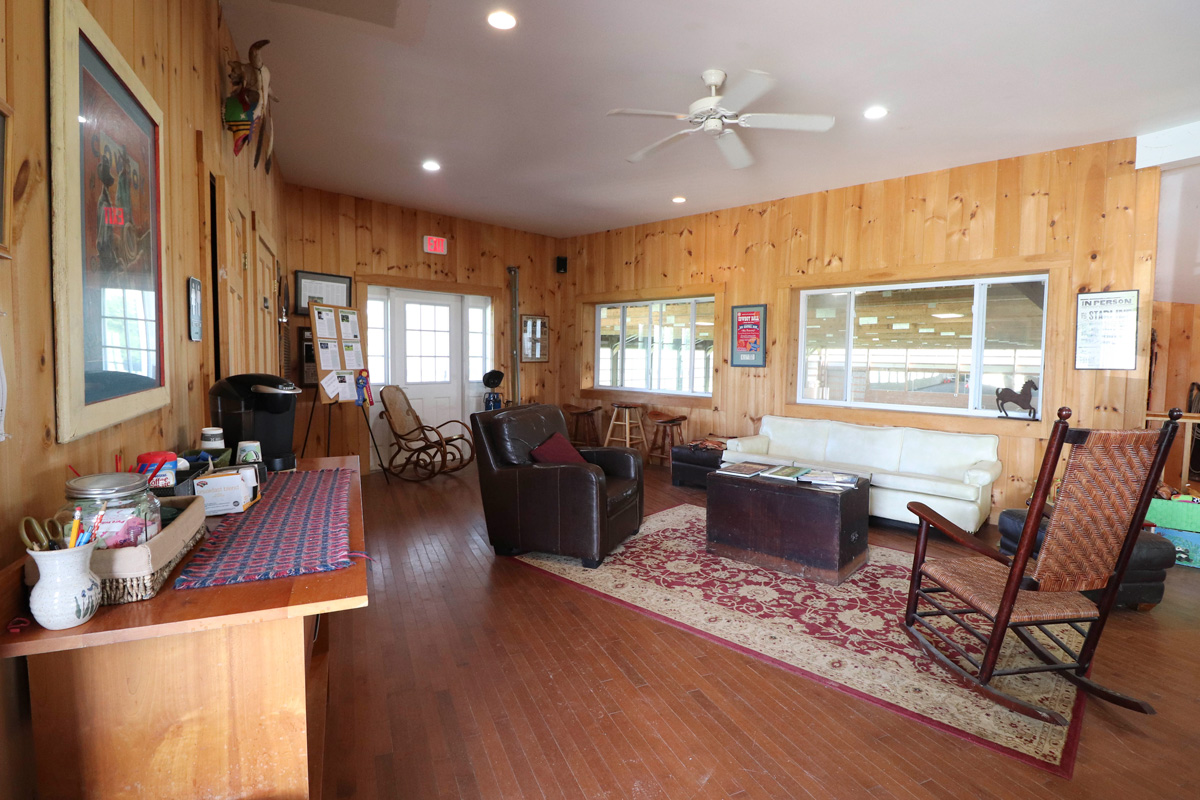 Viewing Room & Porch
Creatively attached as the hinge between the indoor and covered arenas is the viewing room - a heated, second floor break-out space with a seating area, sound system, Wi-Fi, unisex bathroom, and a commanding view of it all. There is an attached accessible porch with outdoor seating and handicapped parking.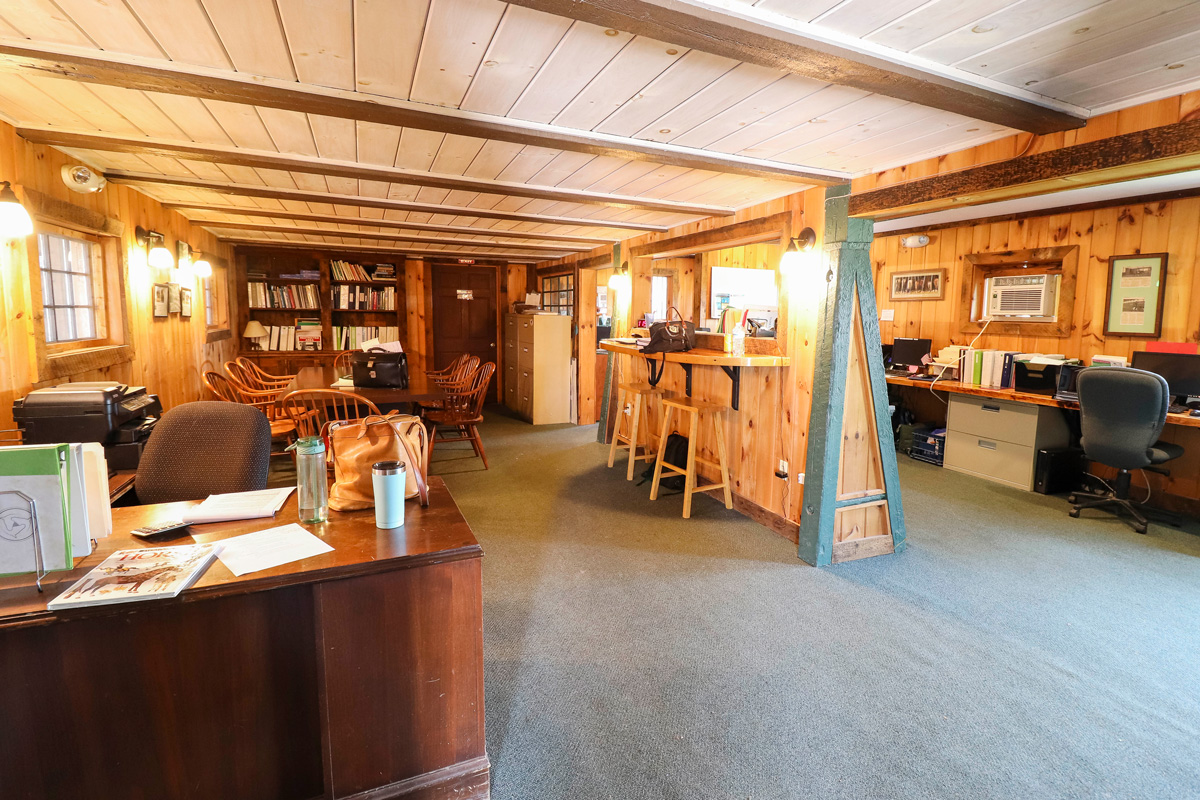 Farm Office
We can help with any last minute business needs, such as printing, copying and use of computers in the business office onsite.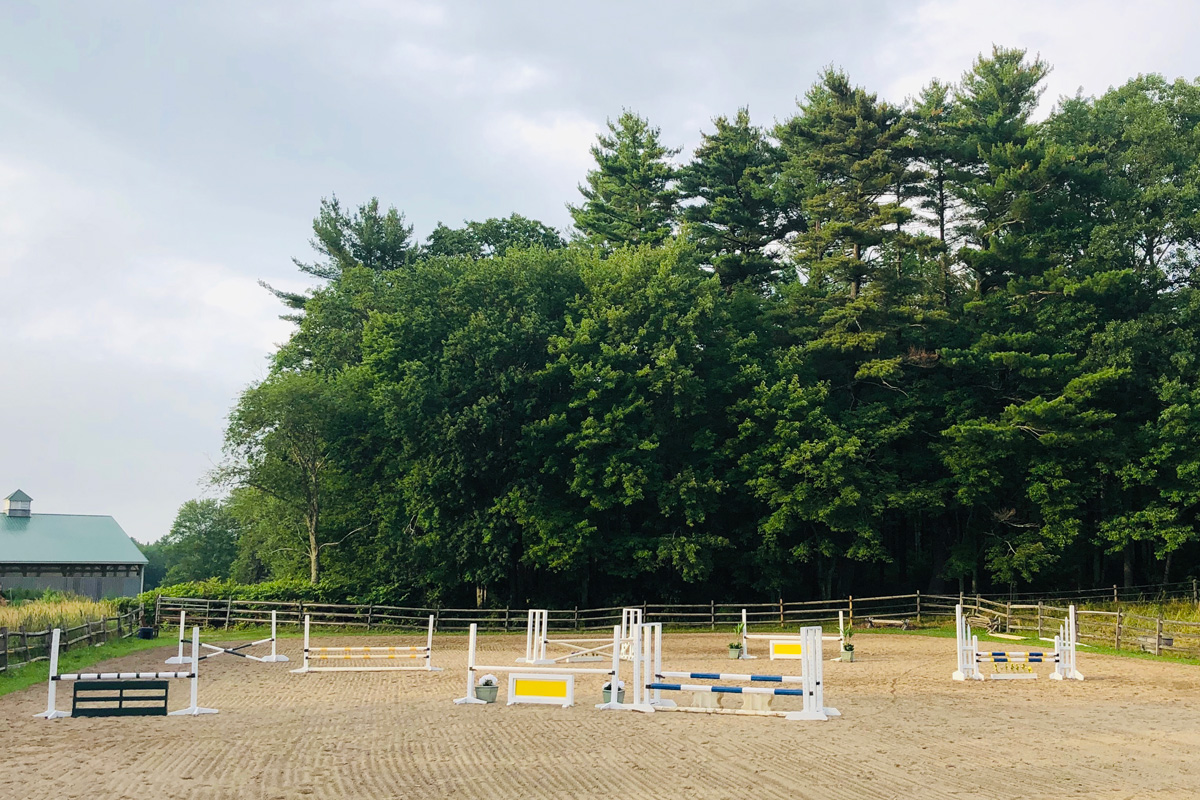 Outdoor Arena & Round Pen
A 100'x200' sand arena is available at the main entrance and can be used for various activities or a parking area. The 80' wooden round pen is ideal for unmounted equine activities used in the wellness and leadership training programs.
Walking Trails
The wooded section of the farm includes protected forest and a small working woodlot in the southwest corner of the "Massabesic Forest South" - identified as an area of statewide ecological significance. Further, this woodlot is bisected by Carlisle Brook, the Academy's namesake, which forms half the adjacent Kennebunk River watershed. A ½ mile walking trail along the 40 acre woodlot access path is a delightful adventure for those interested in nature, particularly in the fall and winter. There is ample bird watching at the intersection of field and forest habitats, and frequent raptor activity around the farm. The farm is engaged in a forest stand improvement project with support from the Natural Resources Conservation Service, a program of the United States Department of Agriculture. Work is conducted with the farm's draft horses, and it is seasonally possible to view some of this process.
Catering Options
Panera Bread - Biddeford, ME, 9 miles away (pick-up or delivery)
Easy box lunches and other to go platters, soups, cakes, etc.
www.panerabread.com
Cherie's - Kennebunk, ME, 7 miles away (pick-up or delivery)
Small scale gourmet catering, Hors d'oeuvres, lunch platters, and homemade sweets.
www.cheries-bakery.com
Texas Grace Kitchen - Kennebunk, ME, 7 miles away (on-site catering)
Flavor born in Texas, made in Maine.
www.texasgracekitchen.com
Other Recommended Vendors
COVID Safety Protocol: Please note we are currently limiting our venue gatherings to Maine-based residents (unless from an exempt state or possessing a negative COVID test) with no more than 50 people. We are encouraging utilizing our open-air venues over inside meeting spaces.